Amanda's Why
I am passionate about supporting organizations in becoming diverse, inclusive and thriving workplaces.
My focus is on challenging unconscious bias and inequality through powerful leadership development programming, emotional intelligence-based assessment, and deeply insightful consulting, facilitation and coaching so that:
leaders lead through respect and accountability;

employees take personal pride and ownership in their work and how they show up; and

organizations act as a committed partner with every stakeholder, generating unprecedented success for everyone.
I do this because, having been written off as a leader in my early career by an unskilled executive because of my shyness, I experienced my own powerful transformation as a leader through a process of receiving dysfunctional feedback that resulted in my own self reflection, deep work, and personal accountability. This, along with a recognition that so many people were unhappy at work, led me to pursue my career in emotional intelligence. So through my personal journey, my emotional intelligence expertise, and my experience as a talent management professional, I have come to know that:
change is not only possible with the right focus but essential for transformational leadership

leadership is a privilege

respect is a human right, and we are all born good

non-judgment is the new leadership capability

leaders can only expect to lead in a transformational way if the systems they work within support them to be non-judgmental, so

clear, consistent, and integrated organizational systems are key to driving sustainable change
My Core Values
I run my business and all of my programming through my core values which are:
Equality: We are all significant, worthy, and important
Optimism: There are endless possibilities
Excellence: Always go the extra mile and beyond
Respect: It's not what you say, it's how you say it
My commitment to you is that you will experience a highly respectful and exemplary service when you engage our services in training, coaching and consulting.
Non-judgment of self and others has always been the central message of my work as an Emotional Intelligence thought leader, coach and facilitator. Latterly my work has brought me to the corporate HR arena where I have worked to put dignity and care at the heart of people strategy. This requires a holistic approach to cultural change by aligning transformational leadership competencies, inclusive practices and people development strategies with non-judgmental people systems.
While studying to become a certified professional diversity coach, I mapped out a model for building diverse, inclusive and equitable workplaces, by aligning the principles and language of ED&I with my core messaging around equality, non-judgment, dignity, care and 'the leadership privilege'.
The principle concepts of this model are that:
1. Workplace cultures that deeply value, respect and leverage how people are different, truly reap the benefits of diversity – the sponsor of this aspect is the Executive team;
2. People strategy and systems built on the principle of dignity lead to fairness and equity – the sponsor of this aspect is HR;
3. Teams that care about each other and that respect each member's uniqueness, build a sense of belonging which leads to inclusion – the sponsor of this aspect is the team's leader.
My three-sided model – the Equity, Diversity & Inclusion pyramid – provides a visual of how the three aspects need to be happening concurrently.
For example, a workplace will not be truly equitable and inclusive if leaders are developed so that they build inclusive teams, yet they have to work with judgmental performance and talent management processes that 'rate' employees or put them in boxes based on bias.
The Diversity and Equity sides of the three-sided Equity, Diversity & Inclusion pyramid.
© Amanda Knight 2020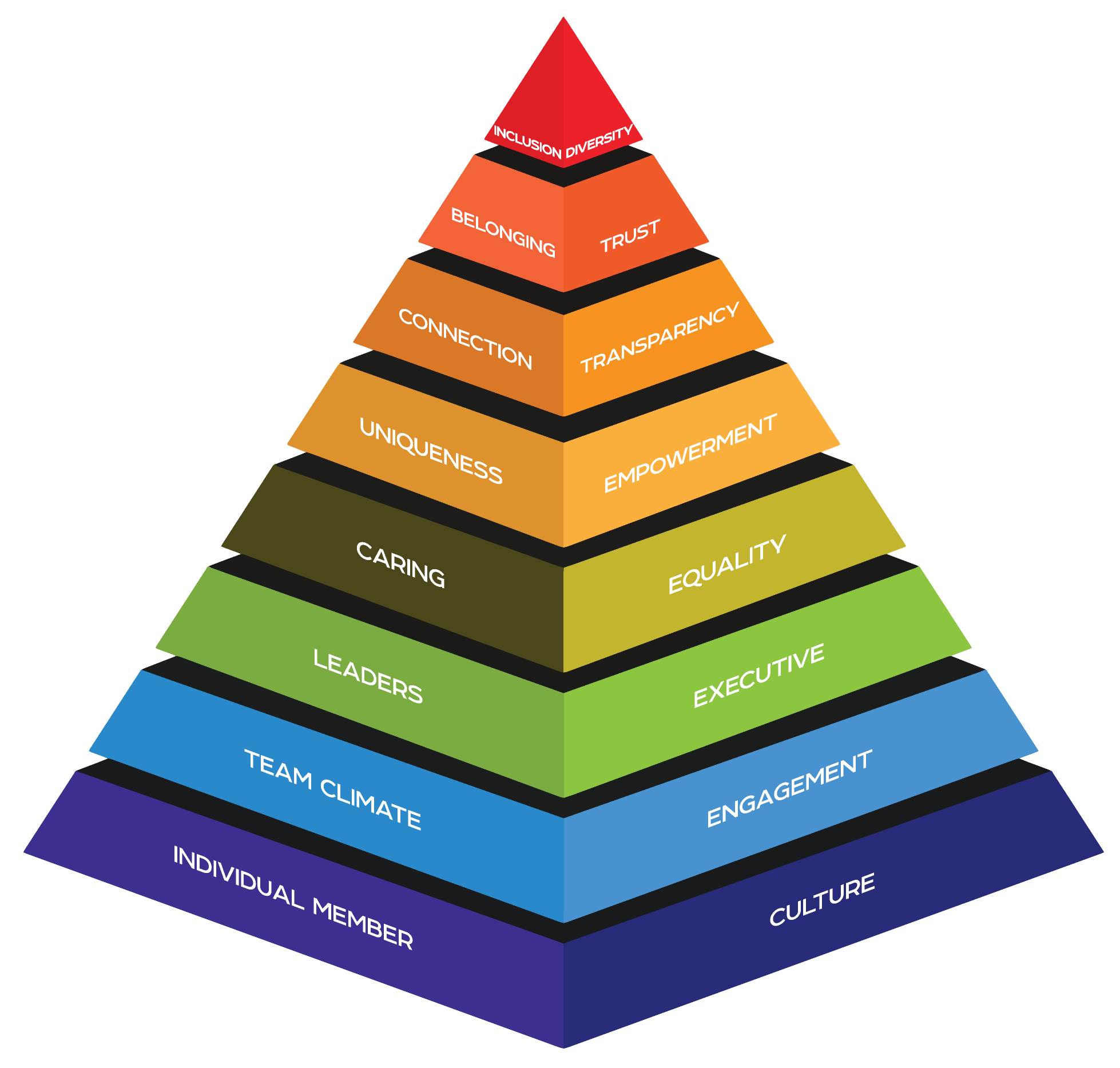 The Inclusion and Diversity sides of the three-sided Equity, Diversity & Inclusion pyramid.
© Amanda Knight 2020
To discover how to use this model in your organization, please contact Amanda to find out about her Diversity & Inclusion online program, or to discuss a customized approach designed specifically for the needs of your workplace.