Facilitator and Speaker
Amanda is a highly experienced facilitator, passionate about creating positive, healthy workplace cultures by advocating for true empowerment, inclusion and transformational leadership to drive employee engagement and organizational effectiveness.
She has facilitated a broad range of sessions at all levels of the organization from large groups in an outdoor experiential learning setting to small to medium-sized classroom-based sessions, and virtual learning classes. Her deep insight into human motivation and behaviour and resistance to change ensures limiting perceptions are challenged in a way that people can be open and receptive to. Her deep listening ability, perceptiveness, strategic thinking and understanding of adult learning needs ensures that groups get to the heart of their issues and identify ways forward that they take ownership of.
Facilitation / learning sessions include:
vision, strategy and core values

team building and development

resilience, managing change and uncertainty

diversity and inclusion

accountability and difficult conversations

succession planning

emotionally intelligent leadership
Engage Amanda as a Speaker for your Next Event!
Amanda enjoys sharing disruptive ideas around organizational culture, leadership and HR and has a powerful message about how leadership is a privilege, as well as why a truly empowered workplace culture is very elusive.
Please check out her speaker bio here at SpeakerHub.

Click on the links here to watch her pecha kucha-style presentations at DisruptHR YEG 2.0 and DisruptHR YYC 6.0.
Sample of Speaking Topics:
Leadership Is A Privilege, Not A Right
Getting Back To Adult
Don't Use the 9 Box: Use This Instead
Why True Empowerment Is So Elusive

Leadership in the 21st Century and the Role of Women
Stakeholder Management Through The Relational Lens
What Do You Do When A Leader Lies?
Talk: What's Your Kryptonite? Step Fully Into Your True 'SuperPower' to Magnetize Success, Wealth & Happiness
Putting Dignity At The Heart Of Your People Strategy
Inclusive Leaders Are Not Afraid To Care
Amanda's Bio
Amanda Knight is passionate about creating great workplace cultures by supporting HR professionals and business leaders to implement an integrated approach to culture change that builds an inclusive workplace.
Prior to settling in Canada in 2009, Amanda was a UK-based practising leadership coach and EI trainer, co-author of the book 'Applied EI' (Wiley 2006), and was awarded a postgraduate accreditation by a UK university for her emotional intelligence-based leadership and coach development certification program.
As an early pioneer of emotional intelligence in the UK, she designed and owns The SRQ - an online assessment and development system powered by a new level of emotional intelligence that helps individuals explore their ability to truly connect, influence, and empower through the lens of non-judgment of self and others.
As a leadership coach and trainer Amanda helps leaders recognize that leadership is a privilege, not a right. She has worked with hundreds of leaders across a broad range of industries over the last 20 years to help them transform the way they show up, how others experience them, and how they can then influence the people they lead to be the best they can be.
Latterly, her work in Canada has brought her back to the corporate environment where she has held senior organizational development roles in HR, Marketing and Communications. Working from the inside, she has been able to influence the build of heart-centred people systems and processes, and deliver powerful leadership programming, to transform the employee experience, and to identify what it takes to build an inclusive workplace culture. She has recently become accredited as a Certified Professional Diversity Coach through the CoachDiversity Institute.
Amanda now supports leaders, HR professionals, corporate trainers and coaches to create truly empowered workplaces, and shares powerful ideas around diversity and inclusion as well as the principles of The Leadership Privilege as a speaker.

Contact Amanda to discuss your next facilitation or speaking requirement.
Non-judgment of self and others has always been the central message of my work as an Emotional Intelligence thought leader, coach and facilitator. Latterly my work has brought me to the corporate HR arena where I have worked to put dignity and care at the heart of people strategy. This requires a holistic approach to cultural change by aligning transformational leadership competencies, inclusive practices and people development strategies with non-judgmental people systems.
While studying to become a certified professional diversity coach, I mapped out a model for building diverse, inclusive and equitable workplaces, by aligning the principles and language of ED&I with my core messaging around equality, non-judgment, dignity, care and 'the leadership privilege'.
The principle concepts of this model are that:
1. Workplace cultures that deeply value, respect and leverage how people are different, truly reap the benefits of diversity – the sponsor of this aspect is the Executive team;
2. People strategy and systems built on the principle of dignity lead to fairness and equity – the sponsor of this aspect is HR;
3. Teams that care about each other and that respect each member's uniqueness, build a sense of belonging which leads to inclusion – the sponsor of this aspect is the team's leader.
My three-sided model – the Equity, Diversity & Inclusion pyramid – provides a visual of how the three aspects need to be happening concurrently.
For example, a workplace will not be truly equitable and inclusive if leaders are developed so that they build inclusive teams, yet they have to work with judgmental performance and talent management processes that 'rate' employees or put them in boxes based on bias.
The Diversity and Equity sides of the three-sided Equity, Diversity & Inclusion pyramid.
© Amanda Knight 2020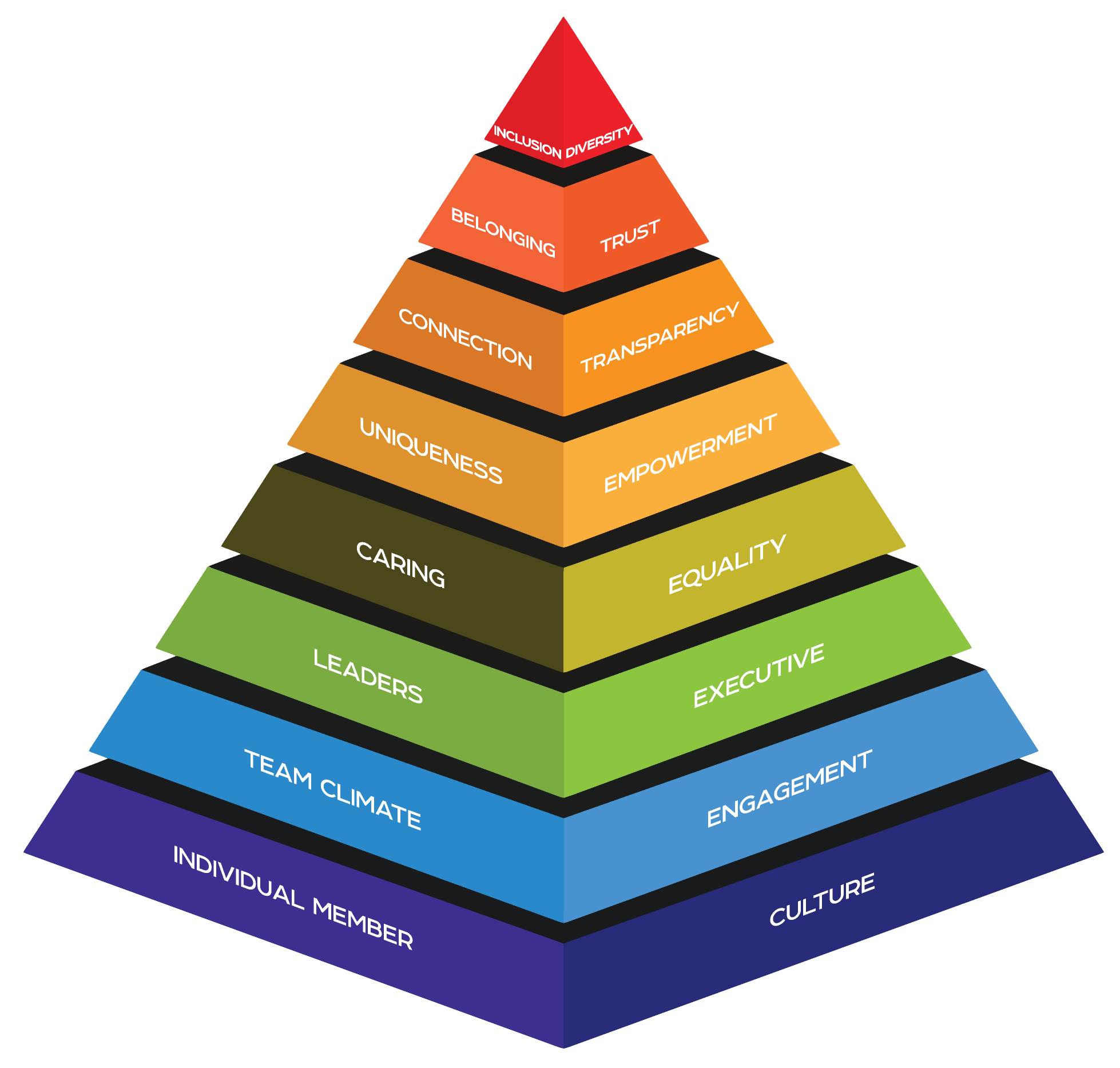 The Inclusion and Diversity sides of the three-sided Equity, Diversity & Inclusion pyramid.
© Amanda Knight 2020
To discover how to use this model in your organization, please contact Amanda to find out about her Diversity & Inclusion online program, or to discuss a customized approach designed specifically for the needs of your workplace.