The SRQ is a powerful, emotional intelligence-based culture and leadership development system including an assessment tool with optional 360 that is development-based to build empowered cultures and truly empowering leaders. It is available to you through an accreditation process or through consultancy.
The accreditation program provides certification in The SRQ assessment tool, deep personal EQ learning, and applied learning around leadership, organizational culture and personal change. Accreditation also includes membership of The SRQ community.
The SRQ empowered development system takes you on a journey to deeply understand the powerful principles of Applied Emotional Intelligence and new-world thinking around strategic HR, along with practical ways to apply these principles in your organization or with your clients to transform workplace culture, and the way leaders lead.
"The SRQ Accreditation program provides comprehensive information and coaching to equip you in developing your knowledge of emotional intelligence and your ability to navigate deep and complex conversations with others about emotional intelligence. The modules are laid out in a simple and intuitive manner, and the group sessions offer key Q&A to anchor the learning. Amanda is an absolutely incredible coach - truly empathic, empowering, and intelligent.
Whether you believe that you are at the "beginner" or "advanced" stages of boosting your skills in organizational leadership, this program will support you in identifying your own blind spots, as well as the blind spots that others have."
Kara Deringer, Organizational Consultant, Speaker, and 2x International Number 1 Bestselling Author
The system comprises:
The SRQ online assessment and full suite of coaching reports including a 360 profile to build self-empowerment and empowering leaders

A structured system for embedding new world people processes in performance management, succession planning, employee engagement, and leadership development to build an empowered organizational culture

Continued sharing and learning as a member of The SRQ online community including regular free webinars

Extensive discounts on the online leadership development program, 'Lead Your Culture From The Inside' that dovetails with The SRQ system
The SRQ in Leadership
The SRQ is being used by training professionals on leadership development programmes to help leaders explore the impact they are having on others through their leadership interactions. Here, they discover the behavioural and attitudinal changes that enable them to inspire and influence others effectively, to manage their own energy and reduce the impact of stress, and to get clear and focused so that they manage expectations and conflict well, and personally perform at a higher level.
"The greatest impact The SRQ has on delegates is its 360 feedback aspect. This highlights gaps in perception and allows delegates to plan how to deal with this, again in a non-judgmental way. Many interpersonal issues within teams have been resolved as a result." UK Health Service training professional
Click here to learn more about The SRQ assessment.
Click here to find out about our SRQ accreditation program.
Non-judgment of self and others has always been the central message of my work as an Emotional Intelligence thought leader, coach and facilitator. Latterly my work has brought me to the corporate HR arena where I have worked to put dignity and care at the heart of people strategy. This requires a holistic approach to cultural change by aligning transformational leadership competencies, inclusive practices and people development strategies with non-judgmental people systems.
While studying to become a certified professional diversity coach, I mapped out a model for building diverse, inclusive and equitable workplaces, by aligning the principles and language of ED&I with my core messaging around equality, non-judgment, dignity, care and 'the leadership privilege'.
The principle concepts of this model are that:
1. Workplace cultures that deeply value, respect and leverage how people are different, truly reap the benefits of diversity – the sponsor of this aspect is the Executive team;
2. People strategy and systems built on the principle of dignity lead to fairness and equity – the sponsor of this aspect is HR;
3. Teams that care about each other and that respect each member's uniqueness, build a sense of belonging which leads to inclusion – the sponsor of this aspect is the team's leader.
My three-sided model – the Equity, Diversity & Inclusion pyramid – provides a visual of how the three aspects need to be happening concurrently.
For example, a workplace will not be truly equitable and inclusive if leaders are developed so that they build inclusive teams, yet they have to work with judgmental performance and talent management processes that 'rate' employees or put them in boxes based on bias.
The Diversity and Equity sides of the three-sided Equity, Diversity & Inclusion pyramid.
© Amanda Knight 2020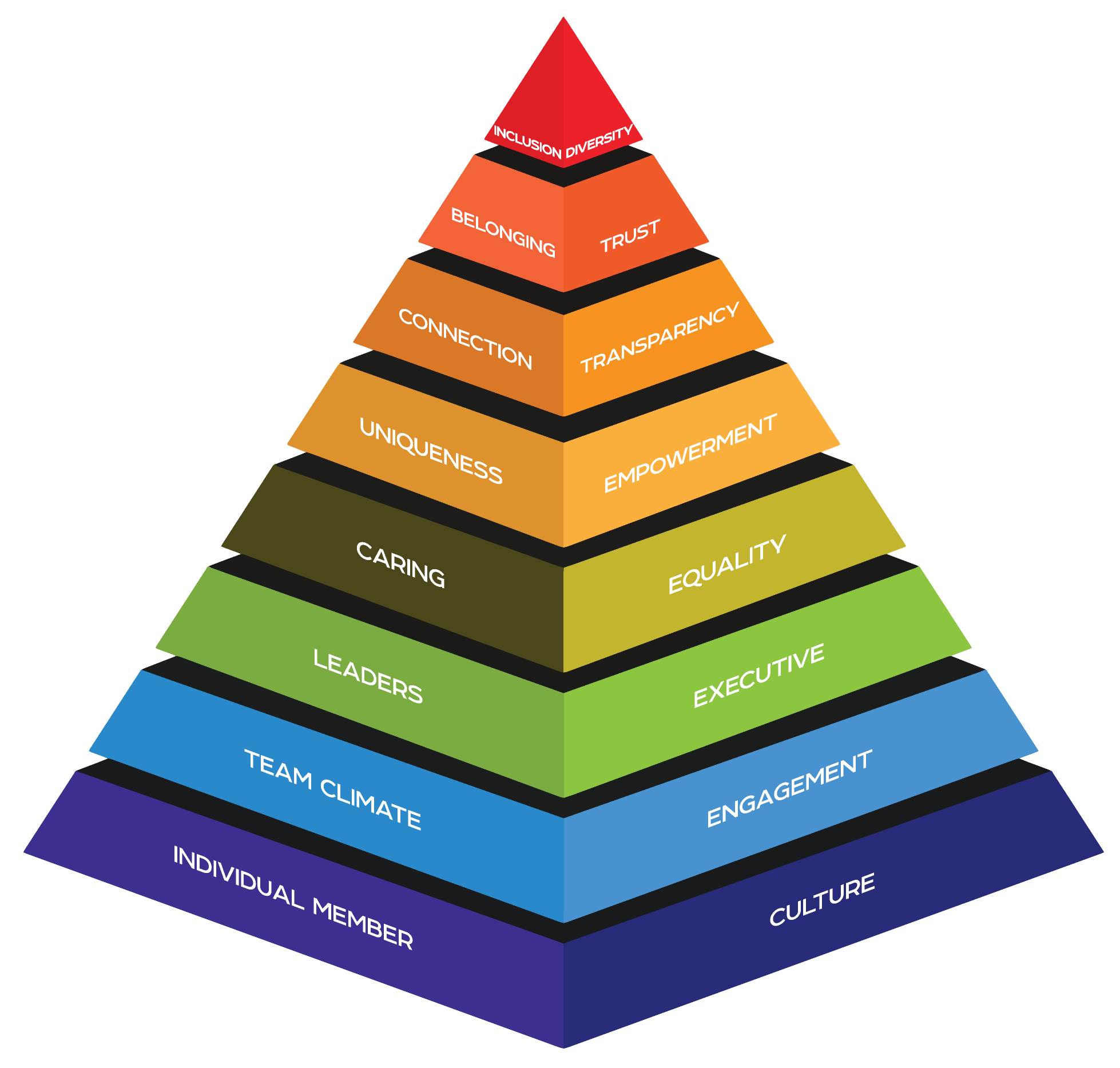 The Inclusion and Diversity sides of the three-sided Equity, Diversity & Inclusion pyramid.
© Amanda Knight 2020
To discover how to use this model in your organization, please contact Amanda to find out about her Diversity & Inclusion online program, or to discuss a customized approach designed specifically for the needs of your workplace.